Glowreeyah, Onos & Aderonke On The Cover GemWoman Magazine New Issue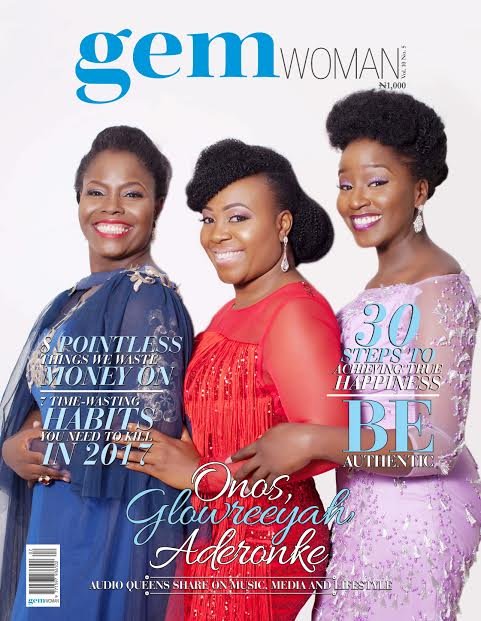 Gospel music and media powerhouses, Glowreeyah Braimah, Aderonke Adebanjo and Onos Ariyogem  all dazzled on the front cover of the new issue of GemWoman Magazine has they announced the release of its exciting March issue. Talk about starting the year with a bang, as this is the inspirational publication's first release of 2017.
In this edition, these three phenomenal women with exceptional gifts share their unique stories on their journey to get where they are today.
Miracle Worker  crooner Glowreeyah has been an ever present figure in the  gospel music scene for quite a while better known for her award wining single which also touched countless people in various ways as she reminded people not just of God's love, but His steadfastness and ever-abiding presence as well. From her well of life experiences, she talks about her music and new life-transforming project that she will be embarking on.
Popular radio presenter Aderonke Adebanjo whose soothing voice and remarkable approach to life issues is the reason behind millions of Nigerians turning on the radio. A self-professed 'love activist', she's a firm believer in the pure, unselfish nature and sacredness of love and is passionate about helping people not only discover it, but espouse it as well.
Just like her industry colleague, multi-talented Gospel artist/entrepreneur to mention but a few,  Onos who has successfully establish her brand in the gospel music industry shares not just on her music but how she keeps every aspect of her life on an even keel as well.
Enjoy this wide-ranging discourse with these outstanding women who by virtue of their voice, influence, transform lives and cause meaningful change.
The magazine also features insightful columns on wide ranging issues – parenting, beauty, relationships, fashion, etc. As well as interviews with leading ministers like Pastor Gbeminiyi Eboda, Pastor Nomthi odukoya, Pastor Ruth Essien, and Gbemiga Adejumo.
Look out for it at your church, nearest bookstore, newsstand or vendor… Or call 07086561988 to subscribe.
CREDITS
Hair: @ceezstyling
Photography: @phosuiteng
Location: Temple Cottage.
Make-up: @da_veeshome
Styling: @gbengaartsmith
Onos' Outfits:
Blue dress: the_maam
Embellished Ankara jacket:@h.o.p.e.fashion
Pallazo Pants: @dflrocks
Aderonke's Outfits:
Lavender dress: @teethreads
Fabric: @nhn_couture
Symmetrical Ankara vest and net blouse with fringed sleeves and culottes: @dflrocks
Glowreeyah's Outfits:
Red tassel dress and gold fitted dress with cape: @chechesignature
Ankara dress: @teethreads
All accessories: @gbengaartsmith

Sport freak... music too. Follow @iamhopinho... fun all the way!

Latest posts by Horpeoluwar Desalu (see all)