Kingdom Life Church Celebrates 11th Year Anniversary | Apr. 28th – May 1st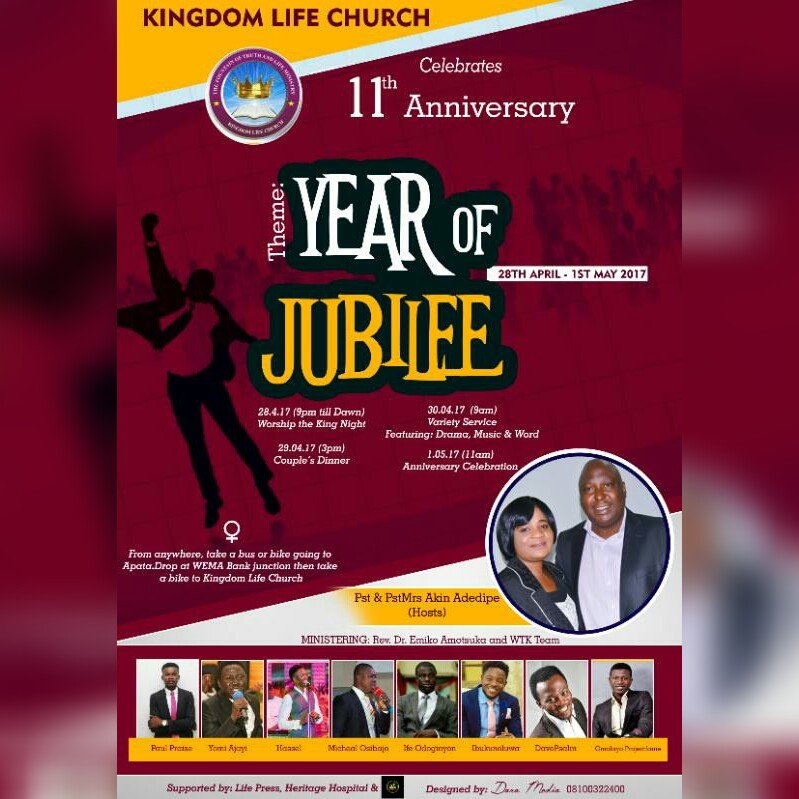 Kingdom Life Church Celebrates 11th year anniversary with a praise concert themed  "Year Of Jubilee".
The event  which  is hosted by Pastor & Pastor Mrs Akin Adedipe will attract a host of Gospel minsters including IBK, Michael Osibajo, IbukunOluwa, Omolayo Project Fame, Taichi, Remote, DavePsalm and it promises a wonderful time in the presence of the Lord.
Also ministering is Abiodun Omoloye, Michael Osibajo, Pastor Ife Odoginyon, Paul Praise, Pastor Yomi Ajayi, Hassel, Worship The King Team & many more.
Date:  Friday 28th April
Time: 9pm till Dawn
Couple's Dinner:  Sunday 30th April 2017
Time (Couple's Dinner) :  3pm

Variety Service: Featuring Drama, Music & Word
Time (Variety Service):  9am

Anniversary Celebration
Date: Monday 1st May 2017
Time: 11am
Ministering: Rev. Dr. Emiko Amotsuka

Sport freak... music too. Follow @iamhopinho... fun all the way!

Latest posts by Horpeoluwar Desalu (see all)