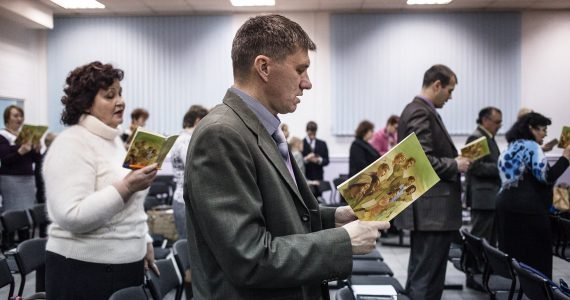 Russia Begins Court Hearing To Label Jehovah Witness An "Extremist Organisation"
– Russia begins court hearing 
– Moves to label Jehovah Witness an "extremist organisation"
Russia has taken its case against religious group Jehovah Witness to the Supreme Court. The country is moving to label the group an 'extremist organisation'.
The case began on April 5, 2017, after there religious group, which has 175,000 members in Russia and 395 branches across the country, had filed a counter lawsuit against the Justice Ministry lawyers on March 30, 2017.
The hearing was resumed on April 6, 2017, at 2:00 p.m.
A spokesman at the Witnesses' world headquarters in New York, David A. Semonian, spoke during the court hearing.
He said: "We certainly hope that Russia's Supreme Court will uphold the rights of our fellow believers in Russia to freely carry out their peaceful worship.
Millions of people around the world will be watching carefully to see how the case progresses and if Russia acts to protect its own law-abiding citizens who are Jehovah's Witnesses."
So far, the counterclaim by the religious group has been dismissed by the Court. This was dismissed prior to the recess of the hearing.
Also, people have been stopped by the court from testifying about the falsification of evidence against local religious organizations of Jehovah's Witnesses and basically, the basis for the claim of the Ministry of Justice.
The sect known today as the Jehovah's Witnesses started out in Pennsylvania in 1870 as a Bible class led by Charles Taze Russell. The group was known as the "Russellites" until 1931 when, due to a split in the organization, it was renamed the "Jehovah's Witnesses." The group from which it split became known as the "Bible students." Since 2004, the religion has suffered a series of official bans in Russia.

Pan-African Online Magazine with the perspective of Christianity