Comedian I Go Dye Builds Mansion For Mum – Apostle Suleman Graces House Warming
– Comedian I Go Dye builds mansion for mum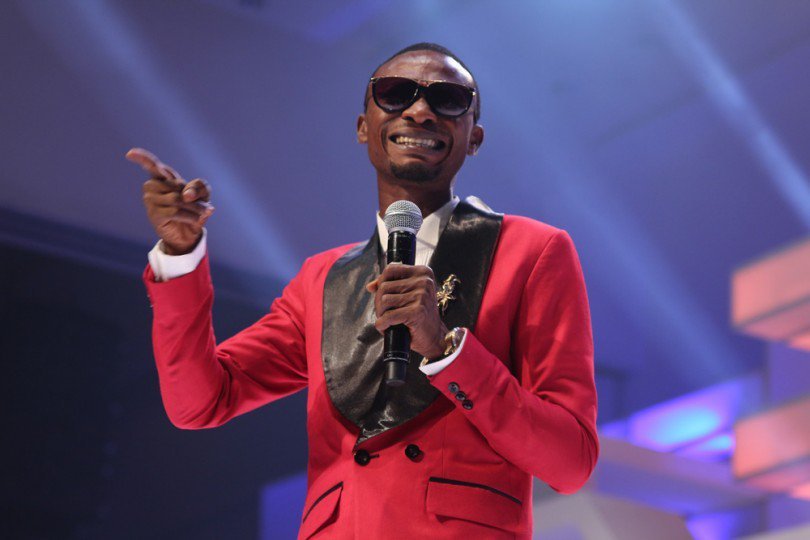 Superstar comedian, I Go Dye dedicated the mansion he built for mum at a housewarming ceremony which attracted host of top names in Nigeria including former governor of Edo State, Adam Oshiomhole and Apostle Johnson Suleman.
The comedian decided to present the mansion named 'Golden Eyes' which he built in his native state Delta to his mother on Mother's Day – last Sunday.
Amb. Francis Agoda also known as I Go Dye revealed in an interview that the mansion is a double castle, stating that one belongs to him and the other for his mum.
"A trillion thanks to God Almighty for the gift of sound life and the grace that made this possible," I Go Dye said. "Also to all our mothers, who kept us alive,when we were conceived. Thank you so much. I am overwhelmed with the immense love and support on my mother's housewarming,yesterday (Sunday) mother's day, my emotions run dry with joy and gratitude.
"I thank you all who took time to show me unconditional love and criticism,you all made me one of the best. I say a big thanks to God Almighty and my spiritual father who told me it would not rain. Thank you Apostle Johnson Suleman for coming even after a tasty service in church,you still made it to come and unveil and dedicate the 'Golden Eyes' to the glory of God,my friend and father the immediate past Governor of Edo State, Comrade Aliu Oshiomhole who astonished me with his remarkable speech,while unveiling 'Golden Eyes".

Sport freak... music too. Follow @iamhopinho... fun all the way!

Latest posts by Horpeoluwar Desalu (see all)