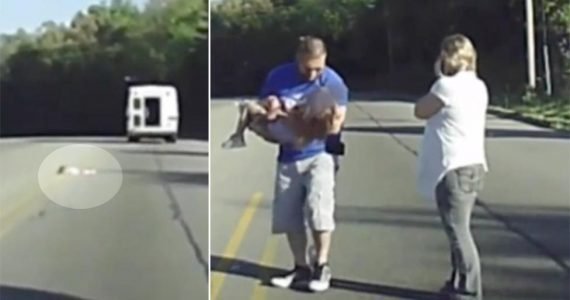 Fire Fighter Rescues 4 Year-Old Girl After Falling Off Church Van
The 4-year-old girl who was rescued by a fire fighter after falling from a  church van in Arkansas last Friday is now expected to make a full recovery from her injuries.
The firefighter, Ryan Ciampoli during an interview revealed that  "It was just unbelievable, One minute I'm just driving down the road, and the next minute I see a little girl swing over the door on this church bus and fall to the highway. It was heartbreaking, but instantly I used my EMS training and firefighter training and assessed the scene as best I could."
Campioli said once he assessed the scene, he decided to move the little girl, identified as Emily Rose Turner. "I realized that it wasn't a good place for her laying there. Typically, in EMS, we're not supposed to move the patient unless they're in a pretty dangerous situation. And because she was on the state highway there in Harrison, Arkansas, it was grounds to get her out of there. I couldn't stand for her to get hit by a car or someone hit us both, and so I immediately got out of my car," he explained.
"I realized the pavement was going to be hot because it was like 80 degrees that day, and so as soon as I ran over to her and approached her, she was unconscious at first. But then she started to move her arm and kind of look up at me, and so I picked her up as carefully as I could and held her in my arms and kind of assessed her little body to see what kind of damages had been done by the fall," he added.
The bus which belongs to Christian Life Center Church in Harrison was being driven by the church's Pastor, Tim Hampton. The incident was later reported to the Harrison Police Department who then confirmed the number of  passengers on the bus has 10 .
The pastor of the church, Hampton explained in the report that the children on the bus were yelling at him to stop after Emily fell out. Once he realized what happened he pulled over on the side of the road and another driver pulled up to him and confirmed what happened shortly after. He drove back to the scene and waited for police.
Emily was then confirmed to have suffered a broken jaw by the paramedics who arrived in about 5 minutes after the incident happened and transported Emily to the hospital. Later reports claimed that she will be going under the knife but expected to make full recovery.
The family has not moved to file any charges in the case. In a statement issued by the family lawyer, he said  "The family wishes to thank everyone for their thoughts and prayers. The child remains in medical treatment and an investigation is underway. The family requests privacy at this time," 
Watch Incident Video Below

Sport freak... music too. Follow @iamhopinho... fun all the way!

Latest posts by Horpeoluwar Desalu (see all)