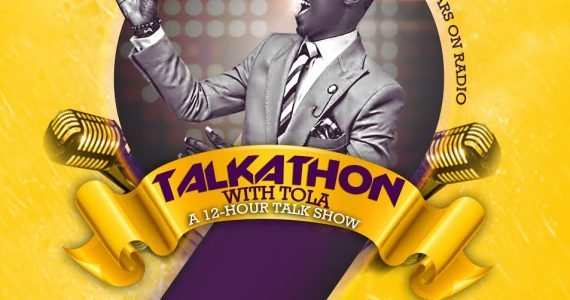 Olutola Omoniyi Celebrates 9 Years On Radio With 12-Hour Talkathon
Tola Omoniyi, popularly known as Spice on the Mic is set to celebrate his 9 year old radio career with a Talkathon; a 12 hour Talk Show on May 9, from 9am-9pm.
The media veteran and CEO of Praiseworld Radio took to Instagram to share the exciting news
"On May 9, I'll be celebrating 9 years on radio with a Talkathon Radio Show tagged Talkathon With Tola A 12-hour talk show, from 9AM – 9PM.
"I'll be hosting several of my friends, past colleagues, professionals, entertainers and resource people that will make it a lively show all 12 hours long". He shared
"Talkathon With Tola " show can be streamed live on the Praiseworld Radio mobile app which is available for download on the site.
Tola whose real name is Olutola Omoniyi, but popularly known as 'Spice on the Mic' is the CEO of Praiseworld Radio. He is media veteran, public speaker, event compere and mentor to lots of young aspiring broadcasters and entertainers.
He currently hosts the award winning radio show 'The Praise O'Clock Show (The Official Breakfast Show)' on Praiseworld Radio.
He has interviewed top notch personalities in the gospel entertainment industry ranging from J Moss, VaShawn Mitchell, Jamie Grace, Kierra Sheard, Sammie Okposo, Joseph Benjamin, Midnight Crew, to name a few.
He has rare leadership skills, passion for quality music and a unique gift at spotting talents.
Tola leads a dedicated team of On-Air Personalities, DJs, journalists, IT specialists and other seasoned professionals from different fields at Praiseworld Radio in the quest to achieve the corporate vision of 'becoming the world's most influential Kingdom lifestyle channel.'
Connect:
Twitter: @spiceonthemic

Sport freak... music too. Follow @iamhopinho... fun all the way!

Latest posts by Horpeoluwar Desalu (see all)