"I Used To Be A University Cleaner" – Sonnie Badu Bags Honourary Doctorate Degree!
– Sonnie Badu bags Honourary Doctorate Degree
– Narrates grass to grace story
Award winning international Gospel artist Sonnie Badu could not hold back his joy as he broke down to tears upon receiving an honourary doctorate degree, He also took to his Instagram account to share his grass to grace story.
Badu who is also a  recipient of Key to the City of Brooklyn, New York and UN Ambassador of Sacred Music. Shared the story of how he moved from being homeless and a university cleaner to bagging two honorary doctorate degrees.
In his word;
"I have worked as a cleaner in London before. I used to clean universities while my age mates were studying. I have also worked as a burger flipper in McDonald's. I have worked in Tescos, boots, dixon's, jones boot makers and being homeless before. I wore one suite to church, however it never stopped me from loving God because I understood times and seasons. At a point the mother of a young girl I wanted to marry in London told me never to step foot into their house simply because I had nothing to my name.  I think she provoked something in me. Today by the grace of God, I am a CEO of almost 10 companies, with an honorary Doctorate, a UN ambassador with an honorary key to the city of Brooklyn, an author of 15 books, 3 smashing albums under my record, happily married to a beautiful queen and God has blessed me with 2 kids. so when I tell you don't give up, pls hear me. you are next in line for Gods breakthrough".
Tearful Sonnie Badu said while being presented with the recent honour. See photo below: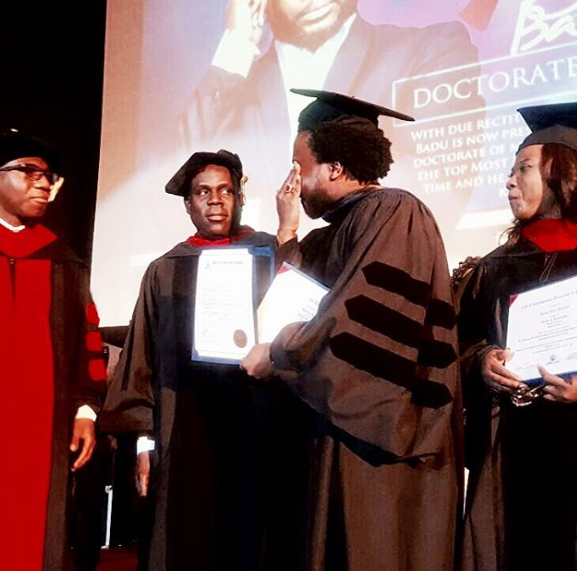 More photos:

Pan-African Online Magazine with the perspective of Christianity