Gospel Hip Hop Artist Same OG Releases "Unveiled" The LP [@its_sameog]
Christian Hip Hop artiste Same OG releases her debut body of music, a 10-track LP titled "Unveiled" on Thursday, August 10 2017. following the buzz preceding the release.
"Unveiled" the LP by Same OG is the first compilation of songs released by the female rapper and singer. After announcing her presence on the music space with her singles and even videos "I Ball" and "Give It All", she has gone on to reproducing more irresistible sounds, some of which are in this LP.
Being a lover of diversity, Same OG didn't hold back as this project flawlessly shows different genres of music, from rap and hiphop, to afro, soul, and R n B. One of the tracks, titled "Unveiled" (track 10) is a well delivered spoken word piece which gave a glimpse into Same OG's poetic prowess.
One thing is sure, "Unveiled" the LP by Same OG will hit the very core of your heart and soul, and keep your ears asking for more like Oliver twist. This is one collection of music you should have on your playlist.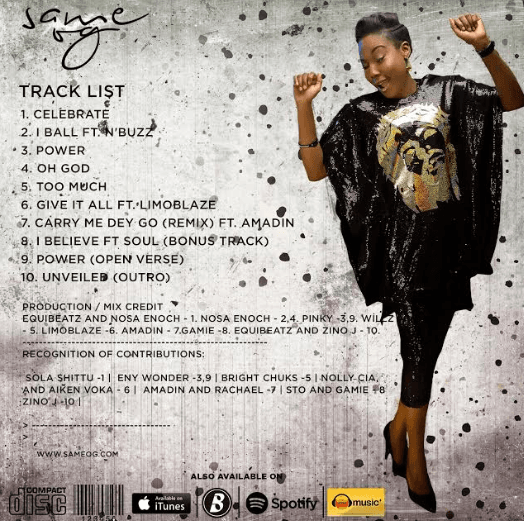 Get Album Below
Get Unveiled LP
1. Celebrate
Download
2. I Ball
Download
3. Power
Download
4. Oh God
Download
5. Too Much
Download
6. Give It All
Download
7. Carry Me Dey Go (RMX) Ft. Amadin
Download
Bonus Tracks
8. I Believe Ft. Soul
Download
9. Power (Open Verse)
Download
10. Unveiled (Outro)
Download
Connect:
Twitter | Instagram: @its_sameog
Facebook Page: Same OG
Email:  me@sameog.com
Contact Artist's Team: +234 808 5245084

Sport freak... music too. Follow @iamhopinho... fun all the way!

Latest posts by Horpeoluwar Desalu (see all)