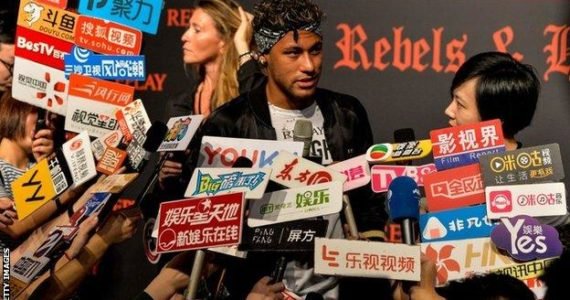 Is Devout Soccer Star Neymar PSG Move A Divine Dividend?
– Neymar PSG Move & its spiritual undertone
"Life only makes sense when our highest ideal is to serve Christ," former FC Barcelona star Neymar da Silva Santos Júnior, commonly known as Neymar was quoted saying once. As the soccer star moves from Barcelona to Paris St-Germain (PSG) were he will earn £40.3m a year and £775,477 in a week, one can only wonder what significance does this holds for the religious soccer player's belief?
Neymar who has been said to give ten per cent of every pay-cheque he receives to his church only goes further to show that God is the source of one's wealth and whatever income one receives, belongs to him and should be used to serve him rightly, whether huge or small income. He owns it before we own it. Having paid his tithe regularly, could it be that Neymar is about to cash in on a divine dividend to become the highest paid footballer in the world?
According to Forbes, Neymar currently earns £9.2 million  (€10 million / $12 million) a year at Barcelona. A 300% pay rise at PSG would make him the best-paid footballer in the world, topping the £32 million (€35.75 million) deal Carlos Tevez enjoys at Chinese Super League club Shanghai Shenhua.
The word of God says He takes us from glory to glory, while some of Neymar's fans believe it was a bad move for the prolific soccer star to move from one of the most successful clubs in the world for a team that finished second in Ligue 1 last season and has never won the Champions League, Neymar may just be making the right move of his next level becoming the center of attention. A Sky News source reports he has become frustrated at "playing second fiddle" to Messi, telling Sky Sports News: "At the age of 25, he thinks it is his time to win the Ballon d'Or."
Nevertheless, amidst the parties, girlfriends and luxurious lifestyle, it is easy to conclude that Neymar's religious front is only a farce but his consistency since childhood proves otherwise. It was recorded once that he said he looks up to Kaka (who is another devoted Christian) in terms of religion. He is also devoted to his family.
Barcelona have released an official statement with regard to Neymar PSG move, confirming that the player has formally communicated his desire to the leave the club. Barcelona made it clear to the French club they must pay his 222m euro (£198m) fee "in full" and they are understood to be ready to meet his release clause.
"The player Neymar Jr, accompanied by his father and agent, has informed FC Barcelona this morning of his decision to leave the club in a meeting held at the club's offices," the statement by FC Barcelona reads.
"Faced with this position, the club has informed them they refer to the buy-out clause of his existing contract which as of 1 July totals €222m which will have to be deposited in its entirety."
According to ​RMC​ in France, Neymar is expected in Paris on Thursday morning and an official announcement is likely to follow after his arrival or by Friday.
– Neymar PSG Move

Pan-African Online Magazine with the perspective of Christianity