3 Plays, 1 Stage! Damola Akiogbe Hosts Worship Conference '18 Featuring Ernieola & More | Jun. 24th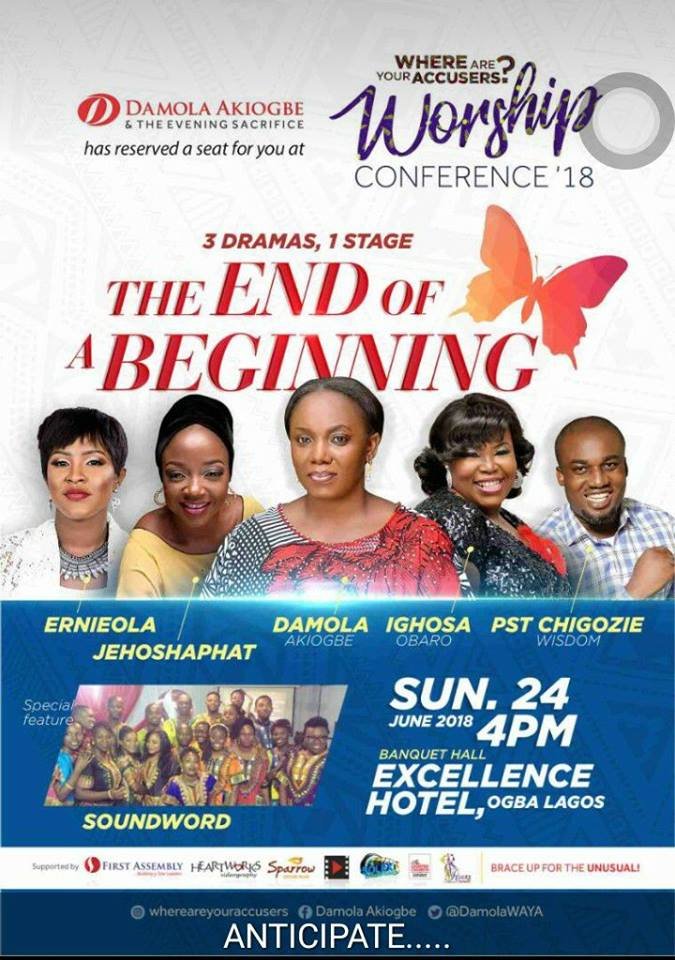 Nigeria's phenomenal drama and worship crew, Damola Akiogbe and the Evening Sacrifice, has announced the reservation of a special seat for you at the forthcoming "Where Are Your Accusers? (WAYA) Worship Conference '18."
The conference themed "The End of a Beginning", will stage 3 Dramas in all.
We are used to Damola's drama and worship events coming up at the later part of the year, the last Sundays of November to be precise. We are excited to see this coming a little earlier and she's not doing it alone. Gracing the stage with her are worship ministers like, Ernieola, Jehoshaphat, Ighosa Obaro and Pastor Chigozie Wisdom.
Special feature by Soundword.
Date: Sunday, 24th of June, 2018
Venue: As usual is, Banquet Hall, Excellence Hotel, Ogba, Lagos
Time: 4pm.

Pan-African Online Magazine with the perspective of Christianity